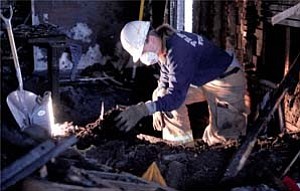 Originally Published: March 20, 2007 4 a.m.
PRESCOTT ­ An early morning fire did not injury anyone, but it destroyed a downtown Prescott home Monday.
The Prescott Fire Department estimated damage at $150,000, PFD spokesman Jeff Jones said.
"Everything inside is a total loss," Jones said.
The 6 a.m. blaze in the 300 block of East Goodwin Street required the response from four fire engines, 15 firefighters and a battalion chief.
When they arrived, heavy smoke and flames were coming from the front of the house, Jones said.
Firefighters attacked the blaze from the outside cooling it off before they entered the home. It took them 20 minutes to put out the fire.
Jones said the fire originated somewhere in the living room, but investigators were sorting through the rubble trying to locate the actual source. The living room area had the heaviest damage, Jones said, while other parts of the house and its contents had smoke damage.
He said the home is rental property and the residents were not there when the fire started.
"The fire had been burning for a while before someone noticed it," Jones said.
The house is not on a historical building list although it is an older home, he said.
Jones was unsure whether a fire alarm was in the residence. He said the fire doesn't appear to be suspicious.
Contact the reporter at
mburic@prescottaz.com
More like this story