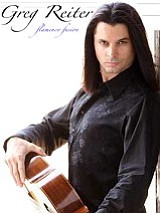 Originally Published: June 8, 2007 3:29 p.m.
Video provided by Greg Reiter.
You must have QuickTime Player to see video. Click
here to download free.
Greg Reiter has devoted 35 years to mastering the many forms of guitar music. His adventure in music has taken him to New York, Washington DC, and London, where he was the lead guitarist for the British band Avenger. Their album, Killer Elite, was released worldwide in 1986, and re-released on CD in 2002.
Since 1994, Greg has devoted himself exclusively to Flamenco/Classical Guitar. His influences include Ottmar Liebert, Paco de Lucia, Strunz and Farrah, and Dick Dale. Greg released his first falmenco-inspired CD, Fireflies, in 1996. When asked about this particular form, he says " The Flamenco guitar is a form of guitar that I believe to be the most powerful instrument to convey emotions; passion, fury, and romance."
Greg's newest CD, Sedona Sun, is a musical tour of the globe, fusing classical guitar with jazz and flamenco beats. From the Mediterranean romance of Positano to the desert-sounds of Kalahari, his music sweeps you away into an alternate time and place. Greg explains, "When I write my compositions, I have the need to not only express myself and the mood of the song, but to travel. I close my eyes, and picture myself in a beautiful place visualizing my surroundings. Music to me is both a state of mind as well as a feeling deep inside my heart."
His compositions attracted the attention of a top Holloywood entertainment firm, who paired him with Heart's Roger Fisher. The duo worked on the soundtrack for The Big Cat Encounter, a documentary produced for the Big Cat Habitat. Another of Greg's compositions, Thunderbird, was considered for the major motion picture Contact, starring Jodie Foster.
Greg's most notable performances include concerts at The William Turner Art Gallery ( Venice Beach, CA ); The Presidential Yacht ( Washington DC ); the Latin American Embassies ( Washington DC ) and the Loews Miami Resort ( South Florida ). His recent performances include opening acts for Barbara McNair and the Manhattan Rhythm Kings.
In collaboration with Nuevo Flamenco Guitar Productions, a Miami-based entertainment agency, Greg is working on the release and promotion of this next CD, Sedona Sun. He plans to secure a worldwide recording and distribution contract. His love for music and life has him ready to tour. "Life is an adventure, and my music continues to take me to many new exciting places, both imaginary, and real."
Visit www.gregreiter.com
More like this story