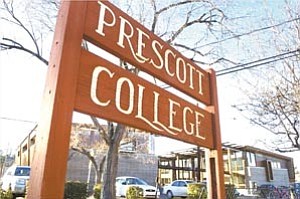 Originally Published: February 18, 2007 4 a.m.
Rebecca Ruffner still can remember when she went to Prescott College as a sophomore in January 1967.
She was part of the college's "charter class," the historical first class to make its way through the intimate liberal arts school which began in 1966. Seventy students from across the United States and world came to Prescott College that year.
Now, after a "roller coaster" history, this alternative-style college is celebrating its 40th anniversary.
"I had come from the University of Arizona where I was one of 40,000 undergraduates," Ruffner said. "Coming to Prescott College from UofA was a different world."
At the time, Prescott College operated at the current Embry-Riddle Aeronautical University campus.
"We were surrounded by open space out at the old campus," Ruffner said, adding how the space was so abundant, she stabled her horses there.
She called the school's curriculum a "personalized educational experience," where the work was very intensive and much more difficult than what she experienced at UofA. In 1974, Ruffner graduated from Prescott College with a degree in anthropology and psychology. Now that she serves on the college's board, Ruffner said the school's philosophy remains the same as when it began 40 years ago.
Prescott College has about 10,000 alumni, said the school's director of development, Joel Hiller. Hiller first went to the college in 1978, before becoming college dean from 1979 to 1992. He also served as college president from 1993 to 1996.
"The college has always had a very strong environment in social justice, always placed emphasis on disciplinary learning," he said.
Teachers instruct from an experiential-based learning curriculum, where many of the projects are field-based studies, he continued.
"When I showed up in 1978, I think the thing that struck me most extraordinarily was the bright and talented faculty and students," Hiller said.
According to papers from Professor Sam
Henrie of Prescott College, the school's vision began during the 1950s when Prescott city officials began looking for a new cultural identity. After forming the concept of Prescott College, administrators registered the school as a non-profit educational corporation in 1960.
However, after opening its doors in 1966, not everything remained so smooth. Ruffner said Prescott College filed for bankruptcy in 1974 and had to close operations at the old campus. Within a couple of months, students began attending classes in the basement of the Hassayampa Inn. Soon after, Prescott College lifted itself back up and moved to its current location
off Grove Avenue in Prescott.
Judy Clapp recalls her days at the old Prescott College campus as well. Before Arizona she lived in Rhode Island and admitted she never camped out, except in her own backyard. She graduated in 1974 with a degree in outdoor education.
"(Prescott College) opened me up to new experiences," she said. "After I graduated, I worked for the Forest Service in Idaho."
Even though the campus is now more urban, Clapp said the core philosophy of the school hasn't changed.
"It was what it still is now, very broad-based experiential learning. They give you a lot of freedom to create your own program," she said.
Contact the reporter at slopatin@prescottaz.com