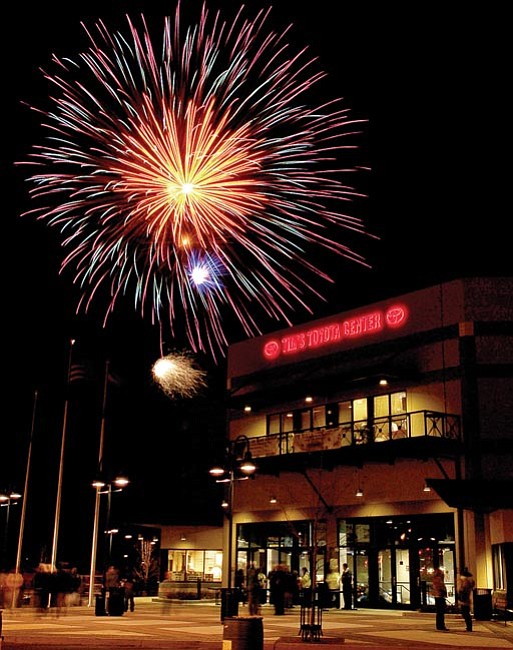 Originally Published: December 31, 2007 9:07 p.m.
PRESCOTT VALLEY - Hundreds of people awaited the arrival of 2008 Monday evening by observing fireworks and a bonfire, attending an Arizona Sundogs hockey game and taking part in family activities.
They braved temperatures in the low 40s and cold winds at the first New Year's Eve festivities that town government officials have sponsored. The event kicked off the town's upcoming 30th anniversary.
Celebrations took place in the Entertainment District, and inside and outside of Tim's Toyota Center.
Several hundred people had arrived by 6:40 p.m., Sgt. Joe Cappelli of the Prescott Valley Police Department said, adding that he expected more to come as the night continued. PVPD deployed six officers at the event center and two on foot patrol, said Cappelli, security coordinator for the New Year's Eve celebrations.
"Everybody is just enjoying the festivities at this time," Cappelli said as he headed toward the event center. "We've had no incidents of misconduct."
Town officials geared afternoon and early-evening events for young families and later activities for adults, which concluded with a fireworks display at midnight.
Prescott Valley homemaker Carrie Andrews arrived shortly after 5:30 p.m. in the Entertainment District with sons Thomas, 15, and Troy, 11, in tow.
The Andrews planned to enjoy the bonfire - which started at 5:45 p.m. - and the 6:30 p.m. fireworks, then go home at 9 p.m. and play board games.
Younger children played in an inflatable playground and trampoline outside Garcia's restaurant.
Sandra Palacios, a special education assistant, snapped photos of her niece and nephew, Daniel Rodriguez and Leah Pierce, both of Whittier, Calif., playing Rockem Sockem on the trampoline - players wore headgear and sparred with foam sticks.
"I just think this is great for families - the unity that brings (people) together, the closeness," Palacios said.
A bonfire on a nearby field beckoned more than 150 people who basked in the warmth of the flames against the backdrop of a darkening blue sky and silhouette of the Bradshaw Mountains.
Town crews burned four 40-yard boxes of Christmas trees and two 40-yard pallets from Prescott Newspapers Inc. said Chris Kuknyo, chief operating officer for Patriot Disposal Inc. of Prescott Valley.
Bonfire observer Rick Burkholder of Prescott Valley showed up wearing white socks, sandals, a Sundogs jersey and denim shorts.
"I love it," Burkholder, a stocker at Wal-Mart, said, referring to the weather. "I dressed for the hockey game. We have season tickets."
He showed up with family members who dressed more for the occasion: wife Tawny; his mother Judy; and his brother, Mike.
Other families and friends flocked to the bonfire, and Prescott Valley newcomer Jeremy Davis used the event for an unintended purpose: networking. Tim Bowman, field superintendent for FNF Construction Inc. of Tempe, overheard Davis say that he was looking for a job with more hours than his part-time landscaping position.
Bowman handed Davis a business card and informed him that FNF plans to hire 40 people to work on the Highway 89/69 interchange project beginning this month.
"Give me a call," Bowman told Davis as the bonfire blazed.
The bonfire outlasted the first fireworks, which ended at about 6:40 p.m.
"(the fireworks) are right on time," Tim Owens of Prescott said as he waited in line with girlfriend Lynne Sansom to enter the event center. "They should do it every year."
Contact the reporter at khedler@prescottaz.con