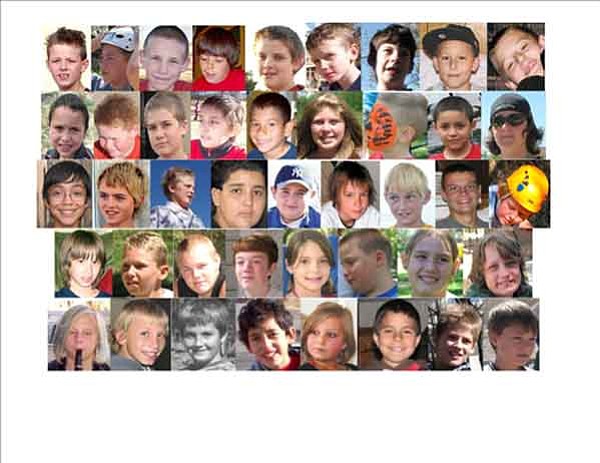 Originally Published: December 27, 2007 8:30 p.m.
Child of the Week is a regular feature in The Daily Courier in cooperation with Yavapai Big Brothers Big Sisters. When we began the Child of the Week feature, more than 400 children were waiting for a Big Brother, Sister, Family or Couple. Most of the children were boys, and many were waiting more than a year.
At that same time, New York City had only about 200 kids waiting. We had a real crisis. Since then, we have shown you 43 wonderful kids - and you have stepped up to the plate - matching about 70 percent of these children with a Big, and hundreds of other children, too. Now we are proud to say that together we have matched more than 75 percent of the children who are waiting for a Big! These impressive numbers are really lives being changed - real people, just like you and your neighbors - real kids, real adults, really changed in ways we can't always quantify. Thanks to you, and thanks to The Daily Courier!!
Of course, we have been studying the impact of what Big Brothers Big Sisters does, and we know that mentoring is the single most effective way to positively impact at-risk youth. We can conclude that the impact mentoring has on our community also is huge - a mentor can be the only person standing in the breech between an uncertain, but likely unpleasant future, and a happy, productive future. A mentor can be the difference between a life of missed potential or a life of meaningful accomplishment.
With more than 5,000 at-risk youth in Yavapai County, our goal is to provide a mentor for every child who wants and needs one. As our efforts to recruit more Big Brothers, Big Sisters, Big Couples, and Big Families continues, we also are always enrolling children into the program. While we have matched hundreds of children with great mentors, we know our work is not done.
We currently have children waiting for a Big from nearly every school in Yavapai County, but with your continued support they won't have to wait long. Most children only wait about two to three months to get matched, and that is because of all the work we put into ensuring the child and adult are safe, share interests, and have a real chance to make that connection that changes lives.
This year, we will endeavor to ensure children not only get a Big who is perfect for them, but will get matched to their Big in less than six months.
Our lofty goals require continued recruitment of Bigs, and a renewed effort to raise money. We are grateful to the State of Arizona and those who participate in the state tax credit for helping the working poor; where couples can donate as much as $400 (individuals $200) to organizations that serve a predominantly "working poor" population, such as YBBBS, and basically take it off their state tax bill - dollar for dollar.
YBBBS is about to launch a couple of activities where a person can be a "Big for a Day." These are event-based activities where an adult considering being a Big can be matched with a child for a few hours in a structured environment. These are great ways to get acquainted with the program without having to make a commitment.
We are grateful to The Daily Courier, and to you, the reader, for all you have done to help us help our community's children! We accomplished great things in 2007, and the work continues. Let's reach out together to the remaining 5,000 at-risk kids and see how easy it is to watch a Little go a long way. Find out more by calling 778-5135.
- Yavapai Big Brothers Big Sisters