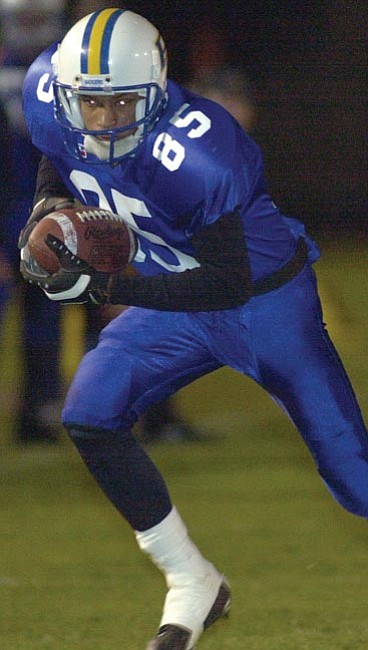 Originally Published: December 17, 2007 10:11 p.m.
Former Prescott High School wide receiver Micah Johnson is among the first wave of signings for the Arizona Adrenaline.
The Adrenaline, who will begin playing in the American Indoor Football Association in March 2008, inked Johnson to a contract at Saturday's player tryout in Phoenix as they get set to embark on their first season of professional indoor football.
Johnson, who graduated from PHS in 2002 and played four years at the University of South Dakota, has had NFL tryouts with the Bills, Patriots, Vikings, 49ers, Dolphins and most recently the Raiders. His 40-yard dash time of 4.4 was among the best at the tryout, which included more than 60 prospective players, and his skills could be used in a variety of ways, according to Adrenaline head coach Andrew Moore.
"Micah is one of those guys who excels at every position that you put him," Moore said. "Having a guy who can play different positions is a huge advantage in indoor football. The indoor rosters are small, so having someone who can play four or five different positions is like signing four or five different players in one. I always tell our guys, 'if you can play more than one position, you automatically have a star next to your name.'"
Among the other early Adrenaline signings are three players - Nakoa McElrath, Paris Moore and Ty Evans - each with at least some NFL experience.
McElrath, a wide receiver and defensive back, played collegiately at Washington State and had brief stints with the Jaguars and Seahawks before playing in the Canadian Football League and the National Indoor Football League.
"Indoor and outdoor football are different, but not as different as some people think," McElrath said. "Indoor is much quicker, but it's really just the outdoor game crunched down."
Evans and Paris Moore are running backs with breakaway speed who can also both line up as wide receivers in the eight-man indoor game.
The 30-year-old Evans played at San Diego State and had a short foray with the Redskins. He played for Coach Andrew Moore with the San Diego Riptide of AFL2 and still holds the National Indoor Football League record of 10 touchdowns in one game. He's the cousin of former NFL star receiver Az Hakim, and is considered a major threat either catching or running the ball.
"We can put Ty in the backfield or line him up wide just as easily," Coach Moore said of Evans. "He's a huge playmaker and a guy who will be great in the community as well as on the field."
Moore gives the same props to Paris Moore, who played for the New York Jets in the early part of the decade and has made the rounds in the minor leagues of both the indoor and outdoor games.
"There's no substitute for outdoor football, but indoor is just as fun because of the style of play," said Paris Moore, who played two years at Phoenix College before going to Mississippi Valley State. "Indoor gives you the chance to really get up close and personal with the fans. To be able to give the fans footballs and stuff like that is something that you're not able to do in outdoor."
The Adrenaline, who will play their seven home games at Tim's Toyota Center, will take 55 players to camp in mid-February. After that, the roster will be trimmed to 25, with 20 allowed on the active roster each week.