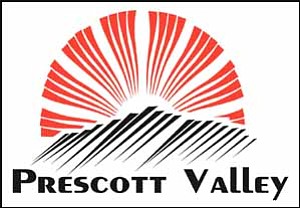 Originally Published: August 11, 2007 10:09 p.m.
The Planning and Zoning Commission will consider more development plans of the Fain Signature Group when the commission meets Monday.
The developer, a major property owner in Prescott Valley, is seeking two separate zoning map changes to bring mixed-unit development on 76 acres currently zoned residential.
Fain Signature Group asked for zoning map changes for 52 acres at the northeast intersection of Glassford Hill Road and Lakeshore Drive, and a separate request for 14 acres on the northeast corner of Civic Circle and Lakeshore.
The second application also calls for a zoning map change for 10 acres south of the intersection of the Windsong Drive extension and Loos and Civic drives.
Fain applied to establish planned area developments, or PADs, on the separate zoning map change requests. Current zoning on the 76 acres allows single-family homes with lot sizes of 70,000 square feet or larger.
Fain seeks to convert the 52 acres to commercial; general sales and services.
The proposed zoning will help Fain to achieve its goal of creating more mixed-use development in the Prescott Valley Town Center, according to a report from the Community Development Department staff.
The 24 other acres also lie within the Town Center, and Fain Signature Group plans to bring development to improve pedestrian access to the Entertainment District and the Civic Center, the staff report states.
Fain applied to Community Development to rezone 14 acres to commercial; general sales and services, and 10 acres to residential and services.
Both requests from Fain face public hearings during the meeting. The commission meeting will take place at 5:30 p.m. in the Town Council chambers on the first floor of the Civic Center, 7501 E. Civic Circle.
ALSO ON THE P&Z AGENDA:
• An application from the Nackard Cos. for a zoning map change from public lands to commercial; minor industrial-planned area development for 12 acres on the south side of Highway 89A two miles east of Fain Road.
• Two requests from Roy Mills - one for a minor general plan amendment to change the designation on a lot from medium-high density residential to regional commercial on the west side of Robert Road 100 feet north of Pecos Drive.
His second request calls for a zoning map change for nine lots between Hill Drive and Robert Road, north of Pecos.