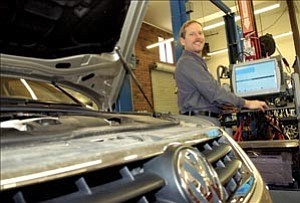 Originally Published: October 15, 2006 4 a.m.
PRESCOTT VALLEY ­ Owners of diesel-powered vehicles are in for a change.
Gasoline stations throughout Arizona are officially switching to a new type of diesel fuel that local mechanics have differing opinions on.
Beginning today, a new ultra-low sulfur diesel fuel with 97 percent less sulfur than the old blend hits the pumps.
Tailpipe filters on all large trucks model year 2007 and newer combine with the new fuel to reduce air pollution, according to the Environmental Protection Agency.
"The joke in the car world is (that) we're a first-world country that's been using a third-world diesel fuel," said Steve LaFleur, owner of Prescott Import Car Service. "China has better diesel fuel than we do. The whole reason for the changeover is because they (the automakers) can't meet EPA emission standards with the old fuel and it ruins the components in the injection system."
The EPA's Clean Air Highway Diesel final rule mandates a 97 percent reduction in the sulfur content of highway diesel fuel from 500 parts per million to a 15 parts per million which started hitting pumps this summer.
The program provides annual emissions reductions equivalent to removing the pollution from more than 90 percent of today's buses and trucks, according to the EPA.
The federal agency also claims 2.6 million tons of smog-causing nitrogen oxide emissions will be reduced annually, resulting in numerous health benefits
Brad Nelson, operations manager with Bennett oil, said customers are still confused about the new fuel and its effect on their vehicles.
Nelson said there are some misconceptions about it.
"A truck that smokes is still going to smoke," he said. "It's the combination of the ultra-low sulfur diesel and the new engine that you're not going to see the smoke. It takes the two to make it work. One without the other doesn't get clean emissions."
Nelson said the new blend is a drier product that forces owners to check and change their filters regularly.
Another prospective problem according to Nelson is that he's noticed operating temperatures increasing 10 to 15 degrees in their fleet vehicles.
Nelson said the reduced sulfur means less lubricity in the new blend.
"We made a decision in June to about double the amount of additives that we put in diesel engines," he said.
And that's an added cost for diesel vehicle owners, according to Nelson.
The government estimates the new blend will cost about 5 cents extra per gallon.
"The big story is that by getting the sulfur out you can now design diesel engines with catalysts and filters that won't get plugged up by the sulfur," said Matt Haber, deputy director of the air division pacific southwest region of the EPA. "Any diesel truck that's out on the road can use the new fuel."
Guy Vanderlinden, assistant service manager at Lamb Chevrolet and Cadillac in Prescott, said diesel vehicle owners take care and read pump stickers to make sure they don't use the old blend in their 2007 models that are labeled to use the new blend.
"You could damage emission components and that's something that General Motors may not warranty," he said.
GM vehicles do not need additives, according to Vanderlinden.
When in doubt, he urges diesel engine owners to confer with their vehicle manufacturers.
Vanderlinden said he hasn't had any problem using the new blend in his '94 Chevy Pickup or '95 Suburban.
"I've used it in both and had no difference in driving, running or pulling power," he said.
Mike Dennis, assistant general manager at Tim's Buick, Pontiac, GMC, Toyota, Hyundai and Isuzu in Prescott, said he isn't worried that the changes will hurt sales.
"I think it's a total non-factor," he said.
Pat Hackman, service manager at York Dodge Chrysler Jeep dealership in Prescott, said he's a little "nervous" that it will cause problems in older diesel engines because of the drop in lubricity.
"An additive is possible but as far as I know, not a lot of manufacturers approve those pour-in-the -tank products," he said.
Hackman said he believes new lubricity additives will hit the market and it could make owning a diesel engine more expensive.
Tony Pacini, service manager at Galpin Ford, Lincoln Mercury, Mazda, has mixed feelings about the changes.
"I think it's a step in the right direction," he said.
Pacini cautioned that will take years to sort out as automobile manufacturers fine-tune things and diesel engine owners grasp what it means to them.
Ford Motor Company informed all dealers that the 2007 Super Duty and older model diesel trucks can run on either blend.
For more information, visit www.clean-diesel.org/faqs.html.
Contact the reporter at jsoifer@prescottaz.com