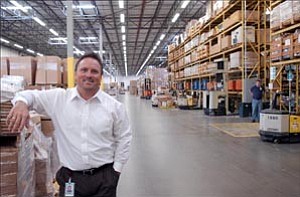 Originally Published: October 15, 2006 4 a.m.
PRESCOTT VALLEY ­ One of the largest buildings in the county is getting bigger.
Ace Hardware Corp. on Tuesday announced a massive expansion plan at their Prescott Valley retail support center ­ which serves more than 300 Ace retailers in Arizona, California, Nevada, Utah and Mexico ­ that will give them more than 900,000 square feet of space.
Anthony Lynch, retail support manager, said the 275,000-square-foot warehouse addition project will begin in January and finish in the first quarter of 2008.
"This galvanizes our future in Prescott Valley, and that's what everybody is excited about," he said. "Our growth out of this area is just phenomenal."
Lynch said the expansion doubles the number of receiving doors at the center to 70.
"The addition to their facility ensures Ace to be a part of this community for a long time," said Gary Marks, director of the Prescott Valley Economic Development Foundation.
Marks said the center is one of the top five employers in the town, and they have a huge economic impact.
"They have been a real cornerstone," he said. "It will create new jobs without a doubt."
About 280 people draw a paycheck from the center, and Lynch said the addition could result in 15 to 30 more employees.
The center receives and ships about 3.5 million pieces of inventory, according to Lynch, who said they are currently using exterior storage units for merchandise.
The center houses $35 million to $40 million worth of inventory from manufacturers around the world and is home to roughly 72,000 products.
To put the warehouse's impending 900,000 square feet in perspective, the Prescott Gateway Mall is 585,000 square feet and the Prescott Valley Convention and Events Center is about 134,000 square feet. The University of Phoenix Stadium in Glendale is 1.7 million square feet.
Bryan Tapella, a spokesman for the Ace corporation, said the expansion makes the Prescott Valley locale their third largest distribution center in the nation (behind centers in Illinois and California).
"There's just been a lot of growth in the area," he said. "As the needs of the stores are growing, the distribution centers are carrying more and more product."
Contact the reporter at jsoifer@prescottaz.com