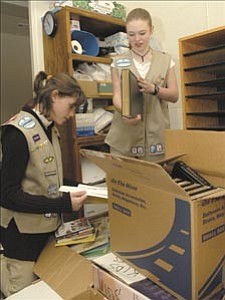 Originally Published: March 19, 2006 4 a.m.
DEWEY-HUMBOLDT ­ An arson on this past Halloween that destroyed about 6,000 books for the future library inspired two Girl Scouts in Phoenix to take up a book collection drive.
Rebecca Edmunds and Hannah Cockrell, both 13 and Juliets in their Phoenix Girl Scout troop, gathered 19 boxes of paperbacks and hardbacks, and their parents hauled the books to the library site Saturday morning.
They collected 876 books for children and about 1,000 altogether to add to an existing collection of 9,000 books, said Betty Comfort of the Community Action Program and the town's Library Committee. When the groups do open the library, it will be in a 1,000-square-foot building adjoining the Kate Garber Senior Center on Corral Street.
Comfort said Rebecca's mother, Holly, contacted her about two weeks after the fire and suggested the book drive. Rebecca and Hannah came up with the idea because they are seeking to earn a Silver Award ­ the highest honor for Girl Scouts ­ for a project that benefits a community.
"When Rebecca told me the story about the fire happening on Halloween, I thought: Why don't we do anything different?" Hannah said. Rebecca and Hannah are eighth-graders at Akimel A-al Middle School.
After the girls started their project, Rebecca's mother contacted Channel 3, which arranged an interview with the girls to publicize their project.
The television exposure helped them to collect books from throughout Arizona, said the girls, who contributed part of their personal collections as well. Some donors dropped off the books, and the girls traveled as far as Prescott to pick them up.
"At first, our goal was 500 books," Rebecca said. "We went over that."
Comfort and other library supporters who gathered at the building Saturday said the book drive impressed them.
"I was really happy," Comfort said. "It cheered me up a lot."
Comfort said library supporters moved about one-third of the book collection to the library before the fire.
And the girls are not done yet, Rebecca said. She added that she and Hannah are conducting a contest at their school to encourage their classmates to donate books to the future Dewey-Humboldt library.
More like this story