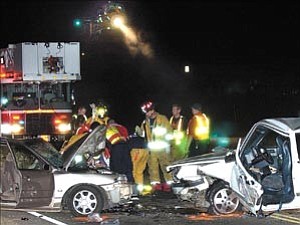 Originally Published: October 23, 2005 5 a.m.
PRESCOTT VALLEY ­ Three people received injuries in a head-on car accident Saturday evening in Prescott Valley.
Native Air helicopters transported two men to a Phoenix hospital and a LifeLine ambulance took another man to Yavapai Regional Medical Center, according to Prescott Valley Police Sgt. James Edelstein. The extent of the injuries was unknown at press time.
The crash occurred at approximately 6:10 p.m. on Robert Road near Phillip Drive just south of Spouse Drive. One of the victims was driving a GMC Jimmy and the other two were in a Ford Contour. Police diverted traffic from just north of Loos Drive to Spouse Drive.
Pending an investigation, preliminary reports indicated that the Jimmy was traveling northbound on Robert, crossed the center line and collided with the Contour which was traveling southbound, Edelstein said.
Prescott Valley Police, Central Yavapai Fire and three ambulances responded to the call.