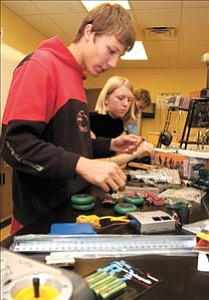 Originally Published: December 7, 2005 7:43 a.m.
PRESCOTT – They don't know much yet about the specifics, but what approximately a dozen Tri-City Prep students do know is that by March they will have built a robot no bigger than 27 cubic feet.
Thanks in part to a $10,000 grant from NASA, the school's Double Helix Science Club (a branch of the National Honor Society) will participate this March in a regional robotics competition.
FIRST (For Inspiration and Recognition of Science and Technology) presents regional competitions around the nation, and the top scorers in those contests head on to nationals.
Dave Somerville, a teacher at Tri-City Prep and the advisor for the Double Helix Science Club, said he and his students attended and helped out at a similar competition a few years ago, but they never have participated as competitors.
On a recent afternoon at the school, members of the Double Helix Science Club worked with erector sets to practice assembling robot parts.
"Right now we're experimenting with how the arms work," said freshman Brandon Collom, who worked with freshman Daniel Garcia.
"Everybody wants to build a robot," said Kianni Bravo, a freshman who worked with sophomore Toft Bragg. "I think it's interesting, to try to make something like this."
The FIRST robotics competition requires students to assemble a robot that performs certain tasks, such as picking up balls and putting them through hoops or picking up rings and putting them over posts.
Toft said FIRST will "send us a kit and give us a certain amount of time to complete a robot."
"Even if we don't make it (to national competitions)," said Zack Bunch, a freshman, "building the robot will be fun."
Avery Riedell, a sophomore, said she believes finishing the robot in time and getting it to perform the functions it's supposed to will prove the most difficult parts of the task.
Evan Ksenzulak, a junior, said he attended the Phoenix competition with Somerville a couple of years ago. He described the robots as "more or less, remote control cars."
"A small part of the contest is automated," he added.
Somerville said an engineering professor from Embry-Riddle Aeronautical University, Chuck Cone, helped Tri-City Prep get the NASA grant to participate. Also, Cone's students will come to the high school to help the students with their robot.
Although the $10,000 grant pays for the robot kit, travel and some expenses, Somerville said he's looking for some local sponsors to help with additional expenses.
Information on the FIRST Web site states, "The FIRST Robotics Competition is an exciting, multinational competition that teams professionals and young people to solve an engineering design problem in an intense and competitive way."
In 2005, the site continues, the competition included almost 25,000 high school-aged students on about 1,000 teams in 30 contests.
Colleges, universities, corporations, businesses and individuals provide scholarships to participants and also provide mentoring to the students involved.
Visit the FIRST Web site at www.usfirst.org or the NASA site at http://robotics.nasa.gove/events/first.htm
Contact Somerville at Tri-City Prep at 777-0403.
Contact the reporter at hdartt@prescottaz.com
More like this story