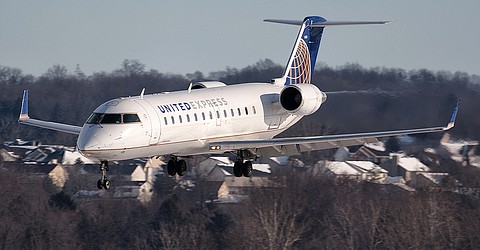 In a move that local officials term "a long time in coming," and a "paradigm" shift for local travelers, a major airline will begin offering flights at the Prescott Airport within about a month.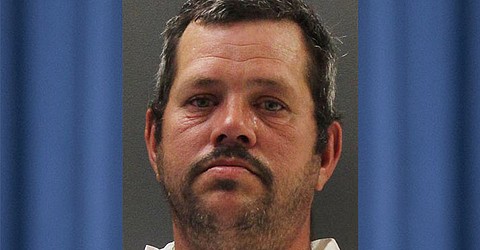 Russell Mell was sentenced to 10 years imprisonment on Monday, July 16, after pleading guilty to manslaughter, a class 2 felony.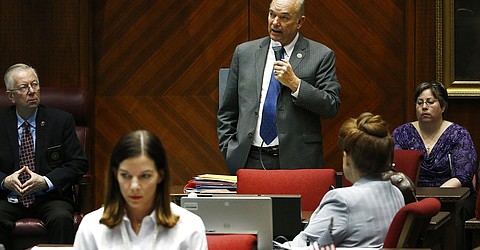 Allegations of sexual misconduct against Kentucky lawmakers have become so common that the statehouse has seemed more like a frat house: Seven have faced accusations, including four who settled secretly with a female legislative aide.
MGM Resorts International has sued hundreds of victims of the deadliest mass shooting in modern U.S. history in a bid to avoid liability for the gunfire that rained down from its Mandalay Bay casino-resort in Las Vegas.
An Indiana prosecutor is crediting genealogy databases with helping identify a suspect in the 1988 abduction, rape and killing of an 8-year-old girl, saying criminals should be worried about these powerful new crime-fighting tool.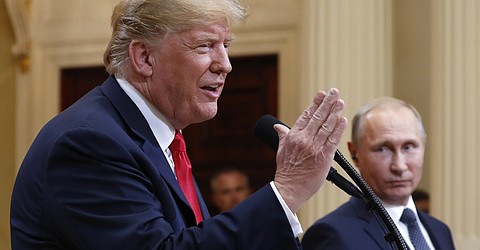 Blistered by bipartisan condemnation of his embrace of a longtime U.S. enemy, President Donald Trump sought Tuesday to "clarify" his public undermining of American intelligence agencies, saying he had misspoken when he said he saw no reason to believe Russia had interfered in the 2016 U.S. election.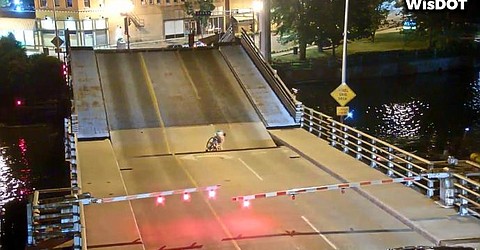 Police say a bicyclist who weaved past the gates blocking access to a bridge over a river in eastern Wisconsin escaped serious injury after falling into the gap that was created when the bridge started to rise.
Quiet neighbors, pristine grounds and a view to die for: No wonder graveyard plots in Berchtesgaden are in high demand.
A dog is home after police in a New Jersey shore town posted its mugshot on social media.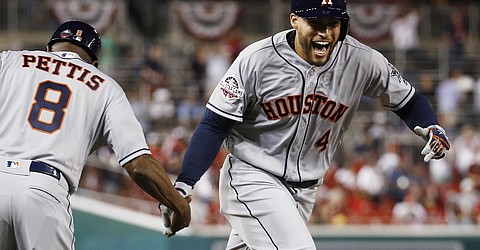 WASHINGTON — A record 10 home runs. A slew of strikeouts. The all-or-nothing All-Star Game mirrored what baseball has become.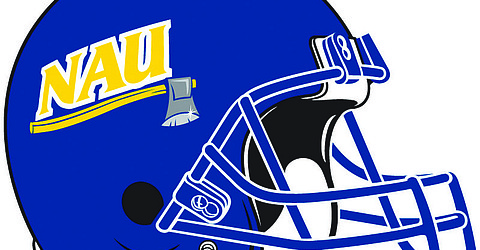 SPOKANE, Wash. — The Northern Arizona football team sits at No. 3 in the Big Sky Conference Preseason Polls for both the coaches and media, each of which were announced on Monday morning during 2018 Big Sky Football Kickoff festivities by league officials.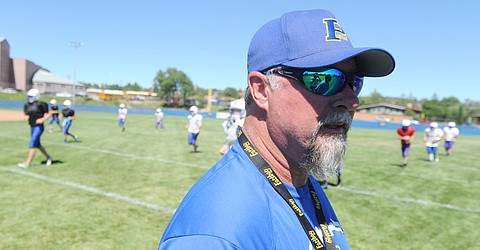 SHOW LOW — With training camp underway this week, Prescott's athletic department officially released its 2018 football schedule Tuesday morning.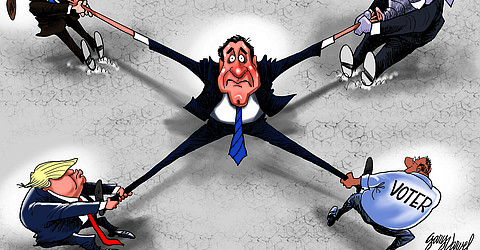 Editorial cartoon (2): July 18, 2018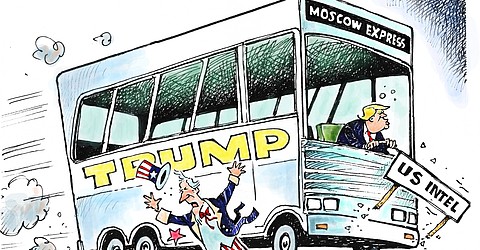 Editorial cartoon (1): July 18, 2018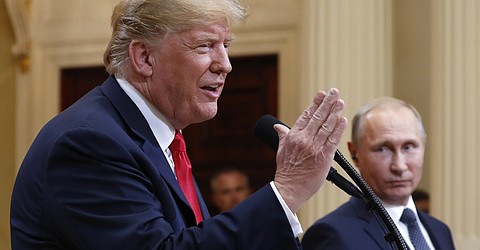 The rest of official Washington might be in free-fall over President Donald Trump's bizzaro-world press conference in Helsinki with Russian strongman Vladimir Putin on Monday.
"Hotel Transylvania 3: Summer Vacation" has checked into the No. 1 spot at the box office in its opening weekend and left the Dwayne Johnson action thriller, "Skyscraper," in the dust.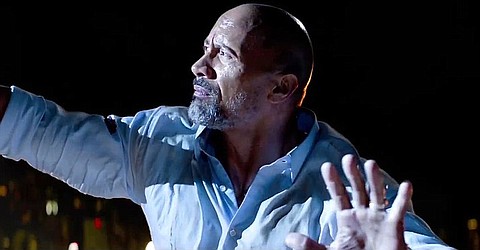 What do duct tape and a prosthetic leg have in common? One word: Action.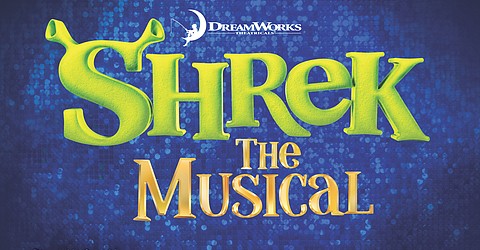 For this year's Teen Summer Stock program, the Prescott Center for the Arts is putting on "Shrek the Musical," a show that begins this weekend.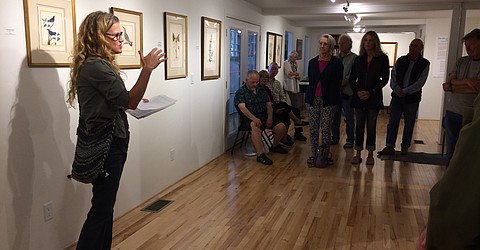 Jen Chandler, left, talks on "Art of Natural History: Understanding the Josephine Michell Arader Natural History Print Collection" at the Natural History Institute's Art and Science Open House July 13, 2018.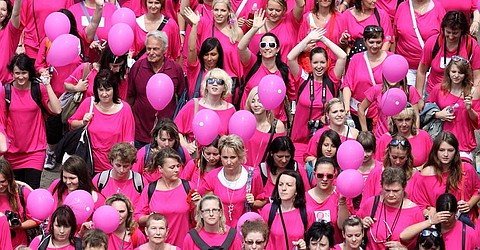 At best, the results are mixed. Studies show these campaigns can put a particular disease on the map, which can be valuable for rare illnesses.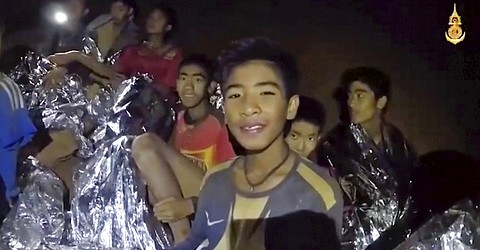 God Bless America, and how's everybody? President Trump met one-on-one with Russia's Vladimir Putin in Helsinki Monday.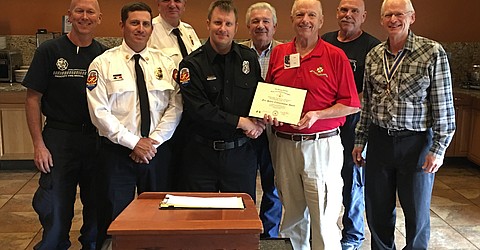 Fire Engineer Jeremy Sarge was awarded the Sons of the American Revolution (SAR) Fire Safety Commendation Award on June 16, by the Prescott chapter, in recognition of his selection as the 2018 Prescott Fire Department First Responder of the Year.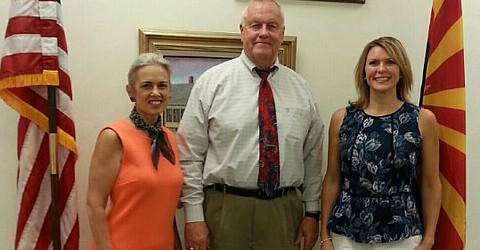 Two new members — Leslie Horton of Prescott and Jodi Rooney of Prescott Valley — were elected to three-year terms on the Gardner Family Teachers Scholarship (GiFTS) board of directors during its May meeting.
Don and Annette Schiller celebrated their 50th wedding anniversary on July 28.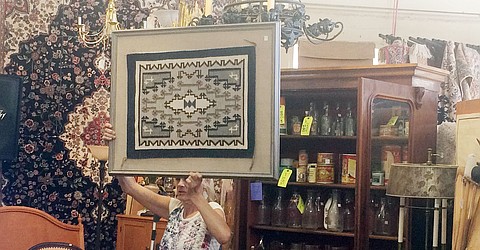 Jan Paderewski holds up a Navajo rug at the Quality Antiques, Art & Firearms Auction put on Saturday, July 7, by Batterman's Auction in downtown Prescott.
Hundreds of people attended the annual City of Prescott Fourth of July Celebration at the Prescott Mile High Middle School athletic field Wednesday, July 4, 2018.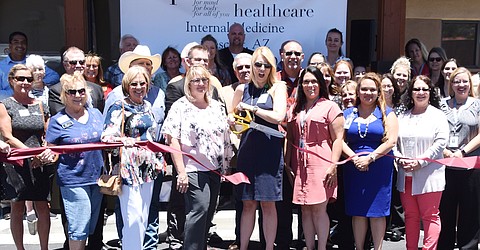 The Prescott Chamber of Commerce celebrated the opening of Spectrum Healthcare Group with a ribbon-cutting ceremony Monday, June 18.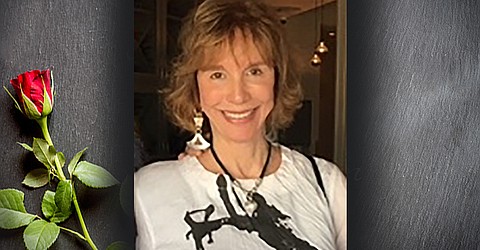 Ageless, Betteanne Rutten passed away at her home in Prescott, Arizona, on July 11, 2018.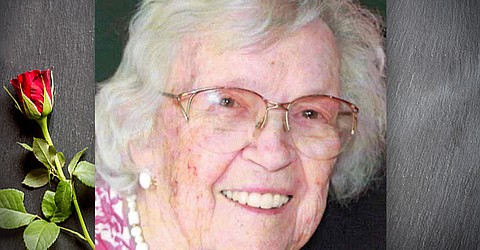 Jean Lennon Carty was born in Detroit, Michigan, on July 10, 1922, and passed away on July 11, 2018.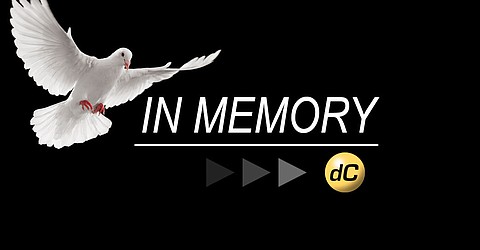 Jack Allen Torgerson, 68, born Feb. 28, 1950, in Aberdeen, Washington, died July 14, 2018, in Prescott Valley, Arizona.